The EPA Recommends Restrictions on Perchloroethlylene (PCE)
The parts cleaning industry has historically used brominated and chlorinated solvents inside vapor degreasers because they provided a reliable and economical result. However, that is about to change thanks to new EPA actions that restrict their use, most notably perchloroethylene (PCE).
In a draft determination for public comment, the EPA wrote that PCE "presents an unreasonable risk of injury to health under the conditions of use," noting that the primary risk to workers comes through inhalation, with potentially harmful neurological effects.
While the EPA had already published initial risk evaluations of ten chemical substances in 2020 (including PCE), it later started an effort to revise specific evaluations to appropriately identify unreasonable risks to health and the environment to meet President Biden's Executive Order 13990. PCE was one of those substances that got a second look.
In the revision, the unreasonable risk determination was made on PCE as a chemical substance, not through individual use cases. This puts the responsibility on the industry to show that their processes aren't increasing risks to workers.
The EPA found multiple cases across multiple use cases, including manufacturing, processing, commercial and consumer use, and disposal, where exposure to PCE exceeded its benchmarks.
In addition, the EPA's assessments no longer assume that workers are wearing appropriate personal protective equipment (PPE) while handling these chemical solvents. This is likely to happen with other chemical substances that the EPA has evaluated, so customers using any of the previously reviewed solvents may want to monitor for future revisions to those guidelines.
What is acceptable exposure to PCE?
The EPA calculates acceptable exposures through the ECEL (Existing Chemical Exposure Limit). This is different from the OSHA Permissible Exposure Limit (PEL). While the ECEL is modeled after the PEL, the requirements are far stricter and look at exposure over an 8-hour period, not a specific point in time. The table below from BFK Solutions shows these differences.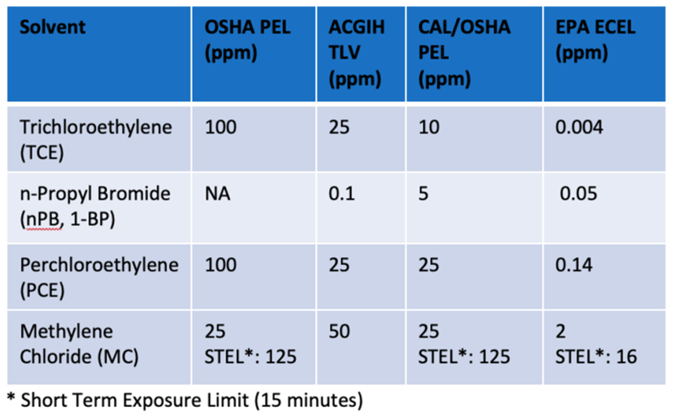 What Should I Do?
The biggest thing to remember here is that this is a draft determination, not a final rule. Therefore, making sudden changes to your processes might not be the best idea. However, it may be a good idea to look at your processes and determine if improvements can be made.
Since the primary exposure vector is through inhalation, some might find success in using "airless" cleaning systems to limit worker exposure and meet what are certainly strict limits on PCE and other brominated and chlorinated solvents in the not-too-distant future.
Our parts cleaning experts can help you determine the best way to clean your parts while still keeping your workers safe.